Here's to strong women. May we know them. May we be them. May we raise them. Happy International Women's Day!

---
International Women's Day is a global day celebrating the social, economic, cultural, and political achievements of women! The day also marks a call to action for accelerating gender parity.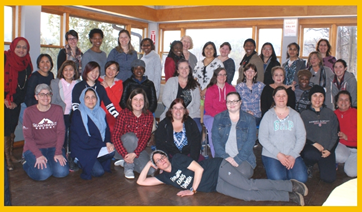 Community Living Toronto celebrates the passion, commitment, and achievements of the many women who make invaluable contributions to our mission and vision, including our staff, volunteers, caregivers, individuals we support, and our colleagues across the developmental services sector.
This year's IWD theme is Choose to Challenge!*

"A challenged world is an alert world. Individually, we're all responsible for our own thoughts and actions – all day, every day.

We can all choose to challenge and call out gender bias and inequality. We can all choose to seek out and celebrate women's achievements. Collectively, we can all help create an inclusive world.
From challenge comes change, so let's all choose to challenge."
* https://www.internationalwomensday.com/Theme
WAYS TO HELP FORGE A GENDER EQUAL WORLD:
Celebrate women's achievements
Learn about gender inequality (past and present)
Raise awareness against bias
Visit https://cltoronto.ca/international-womens-day-2021/ for more information and to find out about events that celebrate this important day!
THE FACTS*:
• 80% of Canadians believe the next generation of women is just as or more likely to experience sexual assault.
• 300 women and children are turned away from shelters on any given night in Canada because they're full.
• 1.9 million women in Canada live on a low income.
• 36% to 14%: The drop in the percentage of girls who say they feel confident between Grades 6 and 10.
• Women are 60% less likely than men to move from middle management to executive ranks.
Here's to strong women!
May we know them ~ May we be them ~ May we raise them
---
#ChooseToChallenge #IWD2021
---
Resources
---
Virtual Events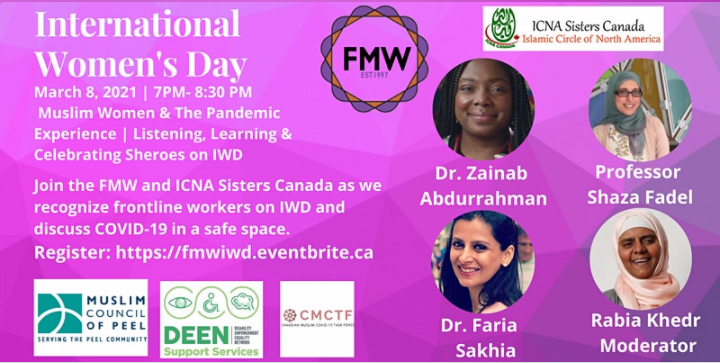 Listening, Learning & Celebrating Sheroes on International Women's Day.
"The Federation of Muslim Women, in collaboration with ICNA Sisters Canada, welcomes you to celebrate International Women's Day: Listening, Learning, and Celebrating our Sheroes on IWD, Muslim Women & The Pandemic Experience. Join us as we recognize frontline workers on IWD and discuss COVID-19."
Happening tonight at 7 PM
---
A Tribute to Canadian Women in Song – LIVE Concert
Here's a free concert for tonight at 8Pm! International Women's Day Free Concert: "A Tribute to Canadian Women in Song" (by Karen Fowlie) MONDAY MARCH 8, 2021 @ 8:00PM Get your free tickets here: https://bit.ly/30mRxMO
---
Career Recharge: Women in Leadership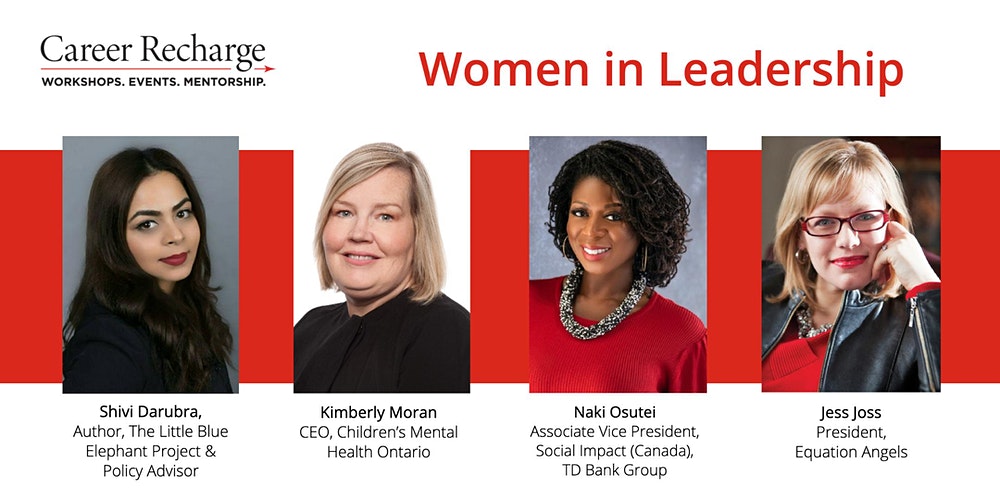 Register for this free workshop happening this Tuesday at 6 pm!
The first workshop in Career Recharge's Diversity & Inclusion series celebrates International Women's Day by bringing together a panel of inspiring female leaders to explore empowerment in the workplace.
Led by moderator Shivi Darubra, join panelists Jess Joss (President, Equation Angels), Naki Osutei (Associate Vice President, Social Impact (Canada), TD Bank Group) and Kimberly Moran (CEO, Children's Mental Health Ontario) as they discuss their leadership journeys, share perspectives on overcoming obstacles, and give advice for aspiring female leaders.