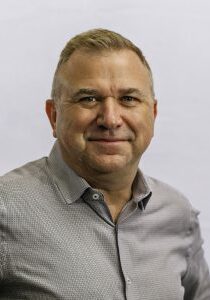 Brad Saunders, Chief Executive Officer
Brad brings over 25 years of experience to the developmental services sector and has been Chief Executive Officer for Community Living Toronto since November 2015. Brad currently leads one of the largest organizations of its kind in Ontario supporting individuals living with an intellectual disability, with over 1300 staff, nearly 200 volunteers, and more than 1300 members. Community Living Toronto strives to be a visionary and community builder while supporting over 4000 individuals and their families. CLTO offers programs and services in the community and across Toronto at over 80 locations, as well as at Shadow Lake Camp in Stouffville. Brad joined Community Living Toronto in 2011 as the Regional Executive Director for Etobicoke/North York, where he innovatively improved and broadened services for children with autism, respite services, and clinical supports.
Prior to joining Community Living Toronto, Brad worked with both the Ministry of Children and Youth and the Ministry of Community and Social Services and was Executive Director of the Bob Rumball Associations for the Deaf for 17 years.
Valérie Picher, Board Chair
Valérie Picher is currently the Vice President, Communications and Public Relations at Greenfield Global Inc. She is a bilingual francophone who has spent over 20 years working in a variety of senior government, nonprofit and corporate roles, including within federal and provincial governments serving several Cabinet Ministers as Director of Communications and Chief of Staff. Prior to joining Greenfield Global, Valérie was also Vice President Community at the St. Joseph's Health Centre Foundation, Head of Canadian Government Relations at Restaurants Brand International and Associate Vice-President of Community Relations at TD Bank Group. She has been proudly serving on Community Living Toronto's Board of Directors since 2014.
Stephanie Gawur, Vice Chair
Stephanie specializes in government relations, issues management and municipal affairs as the Senior Director of Government Relations at Santis Health. Stephanie has supported a number of municipal, provincial, and federal campaigns over the last decade, and was Executive Assistant to a Member of Parliament for whom she managed community outreach and engagement.
In addition to her political experience, Stephanie has held senior leadership positions at the Breast Cancer Society of Canada and the Canadian Association for Community Living. She holds a Bachelor of Arts degree from Queen's University and a Master of Science from the School of the Art Institute of Chicago.
Stephanie joined Community Living Toronto's Government Relations Committee in 2020 and joined the Board of Directors in September 2021.
Susan McCloy 
Susan has over 20 years of experience as a Finance Executive in the Insurance Industry including Life, Property & Casualty and Reinsurance as well as with the Industry Regulator, Office of the Superintendent of Financial Institutions.  She is a Chartered Accountant, has a Masters of Business Administration from York University and a Bachelor of Science from Guelph.
Susan is excited to return to the CLT Board and brings her current experience on the Finance and Audit Committee, Pension Committee and Central Region Council.  She has two children, Harry and Conchita.  Harry has an intellectual disability and this is Susan's motivation for her involvement in CLT contributing to a society where everyone belongs and everyone is valued.
Donald Hale
Since 2011, Donald has been active in Community Living Toronto's Scarborough Region Council and joined the Board of Directors in 2015.  Donald is a lawyer who serves as one of the Vice-Chairs with the Workplace Safety and Insurance Appeals Tribunal (WSIAT).  This body hears appeals from decisions made by the Workplace Safety and Insurance Board (WSIB) respecting entitlement to worker's compensation benefits.  Don's son Matthew has a developmental disability and they enjoy travelling together around the city on the TTC on the weekends and lead busy lives focused on the goals of keeping fit and having fun.
Don Logie
Don is an Executive Vice-President, Development at CreateTO and has extensive experience in the development and operation of commercial, industrial, and residential real estate with particular emphasis on mixed-use developments. Don has been involved in the development and asset management of over 6,000 residential units and more than 22 million sq. ft. of retail and office developments.  He is a member of a pension fund advisory board and two non-profit boards, has a civil engineering degree and an MBA.
Don is a member of Community Living Toronto's Lawson Project Steering Committee and joined the Board of Directors in September 2021.
Geetha Moorthy
Geetha is the Founder & Executive Director of the South Asian Autism Awareness Centre (SAAAC) in Toronto.  From classical arts, and business/entrepreneurship, to community development, Geetha's professional journey has been unique as it has been fulfilling.  Before beginning the SAAAC Autism Centre, Geetha spent nearly two decades in finance including senior roles in controllership and operation management.
Geetha's formal training and love for classical dance pushed her to establish the (Narthanalaya), Canadian Centre for South Asian Dances in 1985, one of the first classical South Asian dance schools in Toronto, training hundreds of students annually, which helped her forge deep ties with the community. It was through her dance school she first came across students who were diagnosed with autism spectrum disorder (ASD).  Touched by these students' commitment to dance and learning of the cultural, financial, and social difficulties their families experienced, she established the SAAAC Autism Centre in 2008.  The Centre currently supports 600 families across 12 programming streams supported by 60 employees and 200 volunteers annually.
Geetha is the recipient of the 2019 RBC Canadian Women Entrepreneur Awards Social Change Award and The Gerry Bloomfield Award for outstanding professional contributions to the field of Autism Spectrum Disorders.
Outside of work Geetha continues to teach dance. She and her husband are proud parents and grandparents of two children and two grandchildren.
Michael Douglas, Treasurer
Michael is a Senior Principal in the Direct Private Equity Group at CPP Investments, where he has worked for over 14 years.  He has been an active volunteer for a number of charitable organizations, including Special Olympics where he has coached powerlifting for two decades.
Michael joined Community Living Toronto's Finance and Audit Committee in 2020, is currently a member of the Lawson Project Steering Committee and joined the Board of Directors in September 2021.
Susan Silma 
Susan is a lawyer in the financial services industry and is currently an executive at a large insurance company. She also has an MBA, with a focus on finance. She has considerable experience working on and with boards.  At Community Living Toronto (CLTO), Susan has served on several board committees and has particularly enjoyed her work as Chair of the Education Committee, where that committee re-imagined the benefits of inclusion. Susan's brother Robert has been supported by CLTO for a number of years, and she is grateful for all the staff who have so professionally and warmly worked with him.  She has been serving on Community Living Toronto's Board of Directors since 2013 and is currently the President.
Emory Gilbert
Emory is a retired community member who has an extensive public safety and security background having served 35 years with the Toronto Police Service and, operated Gilbert & Associates Ltd, providing security and risk management consulting services.  He has been involved with the Central Region Council of Community Living since 2015 and as a Board member since 2018.  Emory's daughter Claire, diagnosed as intellectually disabled, is his motivation for his involvement with Community Living Toronto.  His goal as a Board member is to ensure the continuity of Community Living Toronto and support its objectives in its advocacy for and care of all members of our community.
Laura Collings Parsonson
Laura had a 37-year career in education teaching at the high school level.  Voluntary committee work included Strategic Plan, Budget and Finance, Academic Integrity & Substantive Research, Secondary School Reform, Affirmative Action, Student Success, EQAO and Staff Leadership.  For over 30 years, Laura has been a member of the Etobicoke/York Region Council of Community Living Toronto.  She is a parent advocate and strives to ensure that people with developmental disabilities have a chance to live, learn, work, and play in their local communities.  Laura is currently the Etobicoke/York Region Representative to the CLTO Board of Directors.  She has been a Board member since 2011.
Nelson Raposo
Nelson Raposo started volunteering at Community Living Toronto in 2000, with his first role being in the Youth2Work program and currently providing computer service in IT.  In his 17-year involvement with Community Living Toronto, he has worked at Foster Parents Plan, The Coffee Den at 20 Spadina, TD Bank, and Staples. He has served on the Self-Advocates Council since 2002, Chairing the Council from 2002-2003. His advocacy visits in the community have included the Ontario Parliament and Toronto City Hall. He has been elected by the Self-Advocates Counsel to serve on the Community Living Toronto Board of Directors and has been a member since 2017.
Harvey Cooper 
Harvey has worked for over 3 decades in the Community Housing sector, most notably at the Co-operative Housing Federation of Canada (CHF Canada).  At CHF Canada Harvey served in a variety of senior positions including Director of Government Relations and Deputy Executive Director.  Some of Harvey's key areas of expertise include effective advocacy, non-profit and co-operative housing development, and management as well as association governance and management.  Harvey recently semi-retired and set up his own consultancy firm focusing on assisting non-profit and community organizations with their government relations efforts.
Over the years Harvey has volunteered his time with several organizations including the Public Affairs Association of Canada (PAAC), where he served on the Board of Directors and Membership Chair for 12 years. He currently serves on CLTO's Government Relations Committee.
Jennifer Pereira
Jennifer has over 21 years of professional experience in Construction, Auditing, Education & Training, Professional Sports, and Healthcare.  She is the President and CEO of Fluent Motion Inc., and currently serves as the President for the College of Kinesiologists of Ontario, along with volunteering on community and industry Boards.  She has been a member of CLTO's Service Excellence Committee since May 2021.
Jennifer's eclectic experience allows her to embrace and connect with various clients and professionals, whether it's a construction worker in the field or a high-powered CEO who sits among C-suite executives.  As a powerful force in the health and safety industry she uses her positive attitude and tireless energy to encourage health & safety through worker participation.  Fluent Motion's long-lasting clients stem from Jennifer's belief that the foundation of any successful endeavour stems from developing lasting relationships.
Not only a community leader committed to giving back, Jennifer also holds the following designations; Canadian Registered Safety Professional (CRSP); Environmental Professional (EP); Registered Kinesiologist (R.KIN); Doctor of Acupuncture (DAc.)
Duncan N.R. Jackman, Chair
In 2003 Duncan became Chairman, President and Chief Executive Officer of E-L Financial Corporation, an investment and insurance holding company. At the same time, he was also elected Chairman of the Board of The Empire Life Insurance Company. Duncan is also Chairman of Algoma Central Corporation, the largest Great Lakes bulk shipper as well as Chairman and President of Economic Investment Trust Limited and United Corporations Limited, two Canadian listed closed-end funds, and a member of the Boards of Directors of several other public and private companies.
Jane Gavan, Vice-Chair
Jane Gavan is the President and Chief Executive Officer of Dundee International REIT. She is also President, Asset Management of DREAM and has more than 26 years of experience in the real estate industry. Ms. Gavan is primarily responsible for international real estate investments. Prior to joining Dundee, Ms. Gavan served as legal counsel for numerous companies including Oxford Properties Group, and Denison Mines Corp., and began her career in private law practice with Blake, Cassels & Graydon LLP, specializing in real estate and corporate finance.
Mary Pat Armstrong
Mary Pat is a founding director of Toronto's Ronald McDonald House and of Camp Oochigeas, a camp for kids with cancer. As the founder of LIGHTS, she has helped her daughter, Jenny, set up her own home, and wants to now create opportunities for other families to do the same.
The Hon. John R. Baird
John Baird is a Senior Advisor at Bennett Jones LLP and a former Senior Cabinet Minister in the Government of Canada.
Mr. Baird has played a leading role in the Canada-China dialogue and worked to build ties with ASEAN countries. In addition, Mr. Baird has worked closely with international leaders to strengthen security and economic ties with the United States and Middle Eastern countries.
A native of Ottawa, Baird spent three terms as a Member of Parliament and four years as Foreign Minister. He also served as President of the Treasury Board, Minister of the Environment, Minister of Transport and Infrastructure, and Leader of the Government in the House of Commons. In 2010, he was selected by Members of Parliament from all parties as Parliamentarian of the Year. Prior to entering federal politics, Mr. Baird spent ten years in the Ontario Legislature where he served as Minister of Community and Social Services, Minister of Energy, and Government House Leader.
In addition to his work with Bennett Jones, Mr. Baird sits on the advisory board of Barrick Gold Corp., the corporate boards of Canadian Pacific Kansas City Limited (CPKC), Canfor Corporation (as Chair), Osisko Gold Royalties, the FWD Group and PineBridge Investments. He also serves as a Senior Advisor at Eurasia Group, a global political risk consultancy.
Mr. Baird also volunteers his time with Community Living Ontario, an organization that supports individuals with developmental disabilities, the Prince's Trust Canada, the charitable office of His Majesty King Charles III, and is a board member of the Friends of Israel Initiative.
The Hon. William Blair
William Blair is the former Chief of the Toronto Police Service, having been appointed on April 26, 2005. William Blair lectures at the University of Toronto and at the Rotman School of Management. He has also taught courses at Seneca College on Drug Investigation Techniques, Organizational Behaviour and Human Resource Management. He is a member of the Patron's Council for Community Living Toronto, a member of the Honorary Advisory Committee for the Scadding Court Community Centre and an Honorary Member of Scouts Canada. He is Vice-Patron of the Good Neighbours' Club, Honorary Governor of the Canadian Corps of Commissionaires and recipient of the 2011 Beth Sholom Humanitarian Award. In March 2012, he was presented with the Canadian Diversity Leadership Award by the Diversity Business Network. In recognition of his many contributions to the policing profession Chief Blair was named an Officer of the Order of Merit of the Police Forces in 2007. In May 2012, he was appointed Commander of the Order of Merit of the Police Forces. He is also a member of the Most Venerable Order of St. John and has been awarded the Police Exemplary Service Medal with Thirty Year Bar.
Michael Enright
Michael Enright has been the host of CBC Radio One's The Sunday Edition since September 2000. Prior to joining The Sunday Edition, he hosted This Morning for three years, and he spent 10 years hosting CBC Radio's As It Happens. Among his many accomplishments, he has written for Time magazine, was the editor of Quest, and assistant managing editor of Maclean's. He has also worked for The Toronto Star as a political writer and was Washington correspondent for the Globe and Mail. He received a Southam Fellowship for Journalism in 1979, and studied Chinese history.
Pooja Handa
Pooja Handa has been a CP24 Anchor since 2008 and in April 2011 she became the Co-Host of CP24 BREAKFAST weekends. Handa is passionate about charity work and helping others. Born and raised in the GTA, Handa makes it a priority to give back to the community and continues to be active in the South Asian Community. She also works closely with Halton Industry Education Council mentoring young girls in their career paths.
Mark G. Johnson
Mark Johnson is the Managing Director & Co-Head, Real Estate Investment Banking at CIBC World Markets Inc. Prior to that, he worked in the Equity Capital Markets Group. His responsibilities included origination support and execution of a variety of equity, and equity related products for a cross-section of Corporate Issuers. Prior to joining the Patron's Council, Mark Johnson was the Treasurer and a Board Member of Community Living Toronto.
David Lepofsky
David Lepofsky is a part-time visiting professor at the Osgoode Hall Law School. He graduated with honours From Osgoode Hall Law School in 1979 and obtained a Masters of Law from the Harvard Law School in 1982. He served as counsel in the Constitutional Law and Policy Division from 1989 to 1993 and as counsel in the Crown Law Office Criminal from 1993 to the end of 2015. From 1982 to the end of 2015, Lepofsky practised law in Toronto with the Ontario Ministry of the Attorney General, and in 2004 was appointed to the position of General Counsel. Lepofsky has been an adjunct member of the University of Toronto Faculty of Law since 1991 as well as the chair of the Accessibility for Ontarians with Disabilities Act Alliance since late February 2009. He is the co-chair of Barrier-Free Canada and has been the chair of the Toronto District School Board's Special Education Advisory Committee (a legally-mandatory committee that advises the Toronto District School Board on reforms needed to improve special education services and programs) since January 2016.
Charles Pachter
One of Canada's leading contemporary artists,Charles Pachter is a painter, printmaker, sculptor, designer, historian, and lecturer. His work has been exhibited at the Art Gallery of Ontario, the Royal Ontario Museum, and the McMichael Gallery. He is represented in public and private collections throughout Canada, and internationally. He has held solo exhibitions in France, Germany, Japan, the UK, and India. He is an Officer of the Order of Canada, a Chevalier of France's Order of Arts and Letters, holds honorary doctorates from Brock University, OCAD University, and the University of Toronto where he is a Senior Fellow at Massey College.  He is a recipient of the Queen's Golden and Diamond Jubilee medals. His images of the queen, moose, and maple leaf flag are icons of Canadian contemporary art.
Meredith Saunderson
Meredith Saunderson is an active volunteer based in Toronto. She is founding member and former Chair of the Toronto Friends of the Visual Arts, former Chair of the University of Toronto Art Centre, and she spent thirty years volunteering at the Art Gallery of Ontario as an education docent, and as a travel coordinator. During this time, she spent four years as a member of the Ontario Liquor License Board and ten years on the National Board of Parkinson Society Canada culminating in a two-year term as Chair. This latter role provided her with an insight into health care for neurological diseases. In 1988, the Saundersons' youngest daughter was struck by a car and underwent intensive brain surgery. This lead to the founding of The Saunderson Chair in Acquired Brain Injury at the Toronto Rehabilitation Institute. Meredith is a recipient of both the Queen's Gold and Jubilee medals and the University of Toronto's Arbor Award.
Mayor John H. Tory
John Tory is the 65th Mayor of Toronto. He is also a former lawyer, business leader, community activist and broadcaster. He was formerly an elected representative serving as Member of Provincial Parliament, as Leader of the Ontario PC Party and as Leader of the Official Opposition in the Ontario Parliament. The early years of Mr. Tory's career were spent practicing law in Toronto, and he was later elected as a managing partner of one of Canada's biggest law firms. In the 1980's he served as Principal Secretary to Ontario Premier Bill Davis and as Associate Secretary of the Ontario Cabinet. In 1995, John Tory joined the Rogers Group of Companies, first as President and CEO of Rogers Media Inc. and then as President and CEO of Rogers Cable, Canada's largest cable and internet service provider. He presently serves on the Board of Directors of Rogers Communications Inc. and a number of other companies. Mr. Tory has an extensive background in volunteer community service. He served as volunteer Chairman and Commissioner of the Canadian Football League and has chaired fundraising campaigns for St. Michael's Hospital and the United Way. He maintains an active involvement in those two organizations, as well as chairing the current fundraising campaign for the Toronto International Film Festival. He also holds leadership positions in a wide range of charitable organizations ranging from autism to kids at risk, Canadian authors and children with physical disabilities. John Tory was a founding Board Member and is the voluntary Chair of the Greater Toronto CivicAction Alliance (formerly the Toronto City Summit Alliance), a highly respected city-building organization.John Tory's community work has been widely recognized. He is a recipient of both the Paul Harris and Mel Osborne Awards from the Rotary and Kiwanis organizations respectively and was named a Life Member of the Salvation Army Advisory Board. He is also the recipient of an African Canadian Achievement Award.
The Hon. Barbara McDougall, Founding Chair
Lawyer Barbara McDougall is a former politician who served as a Member of the Parliament for nine year and held several cabinet posts, including Secretary of State for External Affairs, Minister of Employment and Immigration, Minister of State for Privatization and Regulatory Affairs, and Minister of State for Finance. She is an Officer of the Order of Canada. Mrs. McDougall was the President and Chief Executive Officer of the Canadian Institute of International Affairs and she is currently an Advisor at Aird and Berlis LLP.
Andrea Alexander
Bio coming soon.
Patsy Anderson
Patsy Anderson serves as Chair of the Board of The Aldeburgh Connection. She is also a Trustee of Rosedale United Church, an advisor on the Faculty of Arts and Science Dean's Circle at Queen's University, a member of the Patron's Council of Community Living Toronto and a past Chair of Roy Thomson Hall and Massey Hall. Ms. Anderson served as the Chairman of SickKids Foundation and as a Trustee of Hospital for Sick Children. Ms. Anderson joined the Board of Directors at SickKids Foundation in June 2001.
Brad Badeau
Brad is past President and Chief Operating Officer of Trimark, where he was identified as one of the prestigious Top 40 Under 40. Brad was also Senior Vice President and Chief Financial Officer of Burgundy. He advanced standards in the investment management business which have become the de facto standard for the Canadian mutual fund industry's order entry, clearing and settlement activities. Philanthropy and volunteering are central to Brad's well-rounded approach to life. In addition to Community Living Toronto, he has been involved for many years at the management level with L'Arche Canada, and he is the Chairman of the KiBo Foundation.
Donna Cansfield
Donna H. Cansfield is a former politician in Ontario, Canada. She ran in the 2003 election as the Liberal candidate for the Etobicoke Centre riding and won. On October 23, 2003, Cansfield was appointed Parliamentary Assistant (PA) to Energy Minister Dwight Duncan. She became the Minister of Energy on October 11, 2005, and then was later reassigned as Minister of Transportation on May 23, 2006. After the 2007 election, Cansfield became Ontario's Minister of Natural Resources, where she served until the January 2010 cabinet shuffle when Premier McGuinty appointed her as PA to the Minister of Municipal Affairs and Housing. Donna Cansfield was appointed as PA to the Minister of Economic Development and Innovation in 2011 and selected as PA to the Minister of Finance in 2012. In February 2013 Cansfield was appointed chief government whip as part of the Wynne government. Cansfield left provincial politics after she declined to seek another term in the 2014 Ontario election.
W. Robert Farquharson
W. Robert Farquharson is Director and Vice-Chairman of AGF Management Limited and Chairman of AGF Asset Management Asia Ltd. He is a Past Chair of the Investment Funds Institute of Canada (IFIC) and a Former Director of the Toronto Stock Exchange. Bob earned a Bachelor of Commerce degree from the University of Toronto and holds the Chartered Financial Analyst designation.
Bob Hepburn
Bob Hepburn is an award-winning journalist who has worked as the Star's bureau chief in Ottawa, Washington and the Middle East. He has reported from more than 30 countries for the Star and has also served as the Star's editorial page editor, assistant managing editor, national editor and foreign editor.
Dr. K. Kellie Leitch
Kellie Leitch is the Member of Parliament for Simcoe-Grey. Dr. Leitch is a pediatric orthopedic surgeon and an associate professor of surgery. She is the former Chair of the Ivey Centre for Health Innovation and Leadership and has served on various councils and boards, including the YMCA and Community Living Toronto. As a volunteer, Dr. Leitch served as council member on the National Research Council of Canada, was a board member of Genome Canada, a director on the YMCA of Greater Toronto board of directors, Vice-President of the Canadian Foundation for AIDS Research and founder of The Sandbox Project. Dr. Leitch has been recognized with the Order of Ontario for her advocacy work on behalf of Canadian children, and in 2005, she was selected as one of Canada's "Top 40 Under 40" for her work in both medicine and business.
Glenn McConnell
Glen became involved with Community Living Toronto as President of Pattison Outdoor Group, where he was responsible for the overall management of the company, Glenn launched a partnership with Community Livings across Ontario as part of the Public Awareness strategy. Glenn was also the Chair of a tri-level fundraising event entitled "Day at the Races".  For many years, this event saw proceeds given to Community Living Toronto, Community Living Ontario, the Canadian Association for Community Living and Community Living Mississauga.
Brendon Pooran
Brendon D. Pooran is the principal lawyer at PooranLaw Professional Corporation. He regularly provides advice in the area of wills, trusts and estate planning to individuals with disabilities and their families. Brendon teaches Critical Disability Law at York University, is the past President of Community Living York South, a founding director of PLAN Toronto, and a member of the Ontario Consent and Capacity Board.
Don Roger
Don is a partner in the commercial real estate group at Torys LLP. Don's practice focuses on real estate and infrastructure with an emphasis on commercial real estate, energy related projects and secured financing. He was recognized as a leading lawyer in energy and real estate law in 2013 and 2014 by Best Lawyers in Canada and they named him 2014 Toronto Energy Lawyer of the Year. Torys LLP and Community Living Toronto have had a close relationship for over 50 years. Don has worked with, and provided legal advice to, Community Living Toronto his entire career. Don has been a member or chair of the sponsorship committee for all four Community Rocks and he was involved with Community Living's Night of Stars on many occasions prior to that.
Chief Mark Saunders
Mark Saunders was appointed the 10th Chief of the Toronto Police Service on May 20, 2015. During his 32-plus year policing career, Chief Saunders has had extensive investigative experience in Professional Standards, Urban Street Gang Unit, Intelligence Services, Drug Squad, Community Safety Command, and the Emergency Task Force and served as the Unit Commander of the largest Homicide Squad in Canada. Chief Saunders is a member of the International Association of Chiefs of Police (IACP) and is a member of the Major Cities Chiefs Association (MCCA).  He is also a member of the Police Executive Research Foundation (PERF).  Chief Saunders is a member of the Canadian Association of Chiefs of Police (CACP).  He is also member of the National Coordinating Committee on Organized Crime (NCC) and a member of the Executive Committee for Criminal Intelligence Service Canada (CISC).  Chief Saunders is a member of the Ontario Association of Chiefs of Police (OACP).  He is also a member of the Criminal Intelligence Service of Ontario (CISO) Governing Body Executive and a member of the Executive Committee for the Combined Forces Special Enforcement Unit (CFSEU). Chief Saunders is committed to continuous education and has recently completed a Justice Studies Bachelor of Arts degree at Guelph Humber University.  He has also completed the Leadership in Counter Terrorism Course (LinCT). In recognition of his many contributions to the policing and service to the community, Chief Saunders has been the recipient of numerous awards, including the Queen Elizabeth Diamond Jubilee Medal for Outstanding Community Contributions.  He was also awarded the Police Exemplary Service Medal with Thirty Year Bar.  He has received the Black Canadians Award for Public Service and has twice received the Black History Month Award.  In October 2015, he was named an Officer of the Order of Merit of the Police Forces.