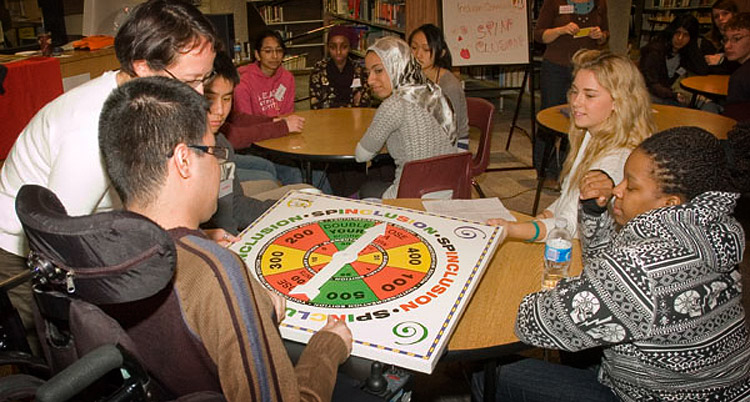 Community Living Toronto believes all children have the right to an inclusive and challenging school environment surrounded by peers and supported to learn and participate in all aspects of their school's community.
Recognizing these rights is important to us. Whether you need support registering your child for school, want to find out more about individual education plans or have any other questions about your child's education, we're here to help.
If you have any education related questions please contact:
Tracey O'Regan, Inclusion Coordinator & Education Liaison
416-371-3162 |  toregan@cltoronto.ca 
For more information about Elementary to Secondary education support, legislation and resources, please click here.

Designed for children and youth, Spinclusion is a fun, interactive game that promotes acceptance and respect for people with different needs and abilities. Recently expanded to include sensitivity to cultural diversity, Spinclusion gives children and youth from grades two right up through high school an opportunity to participate in lively discussions related to the inclusion of all people. Spinclusion has been very well received. Not only does it help children learn, it's fun too!
For more information, visit: http://www.spinclusion.ca/
Useful resources
ConnectABILITY
Parents Education Handbook
Starting School [Workshop]
Identification Placement Review Committee (IPRC) [Workshop]
Individual Education Plan (IEP) [Workshop]
Links
IEP Resource Guide (Ontario Ministry of Education)
Shared Solutions (Ontario Ministry of Education)
Policy on accessible education (Ontario Human Rights Commission)