February is Black History Month, an opportunity for all Canadians to learn about the many contributions Black Canadians have made to Canada. The commemoration of Black History Month dates back to 1926 when Harvard-educated African American historian Carter G. Woodson proposed setting aside a time devoted to honour the accomplishments of African Americans and to heighten awareness of Black history in the United States. Celebrations of Black history began in Canada also shortly thereafter. During the early 1970s, Black History Week was celebrated, which was eventually expanded into Black History Month in 1976.
In December 1995, the House of Commons officially recognized February as Black History Month in Canada following a motion introduced by the first Black Canadian woman elected to Parliament, the Honourable Jean Augustine. The motion was carried unanimously by the House of Commons.
Today, we continue to commemorate Black History Month through festivities and events that honour the legacy of Black Canadians past and present.
Upcoming Events
Misinformation and Conspiracy Theories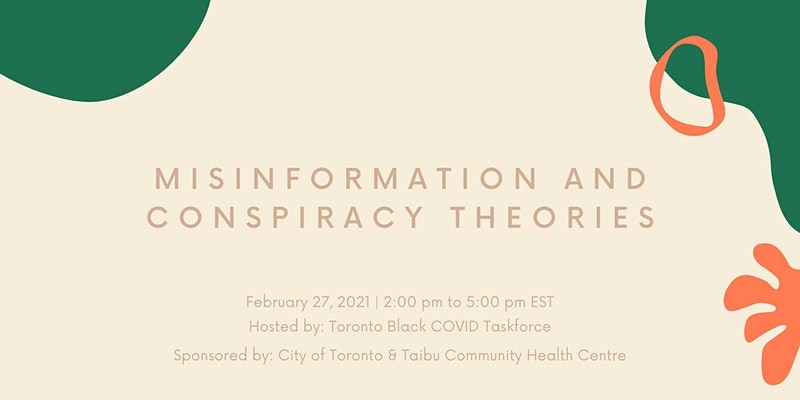 Saturday, February 27th, 2021 on Zoom.
2:00 pm – 5:00 pm
Join the Toronto Black Covid-19 Taskforce and TAIBU Community Health Centre for a discussion that will contribute to an ongoing collective conversation on the convergence of multiple crises, including COVID-19.
---
The Ontario Black History Society – Speaker Series
February FEB 9th, 18th, and 23rd, 2021
During February 2021 join The Ontario Black History Society (OBHS) virtually for their speaker series that will include three evenings of dynamic conversations with a phenomenal range of speakers including film maker Cheryl Foggo, author Lawrence Hill, a panel with Black Heritage sites, and storyteller Sandra Whiting.
---
The Jean Augustine Centre for Young Women's Empowerment's Annual Black History Month Celebration and Fundraiser.
Saturday, February 20th, 2021 on Zoom.
11:00 am – 2:30 pm
This event is celebrating the African Diaspora through live performances, an interactive shea butter workshop and a cooking class!
---
Equity-Based Health Promotion for Black Mothers of Children with Developmental Disabilities: Consideration for Practice and Policy during COVID-19 pandemic and beyond
with Dr. Ulanda Niel and Nazilla Khanlou, RN, PhD
February 10 from 12:00 pm – 1:00 pm

This Webinar will share the findings of a qualitative study of the challenges and strengths of black mothers of children with developmental disabilities. The speakers will also provide suggestions for improving diversity and inclusion within the places where we practice and receive care. They will conclude with recognizing the complexities of the COVID-19 pandemic for racialized families of children and youth with developmental disabilities. Register HERE
---
Resources
---
Download this free Info and Activity Booklet
---
Taibu Community Health Centre – Clinic and Supports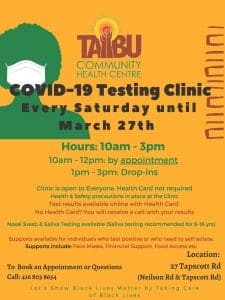 ---
Periodic Table of Canadian Black History
Check out this periodic table. click the image and explore!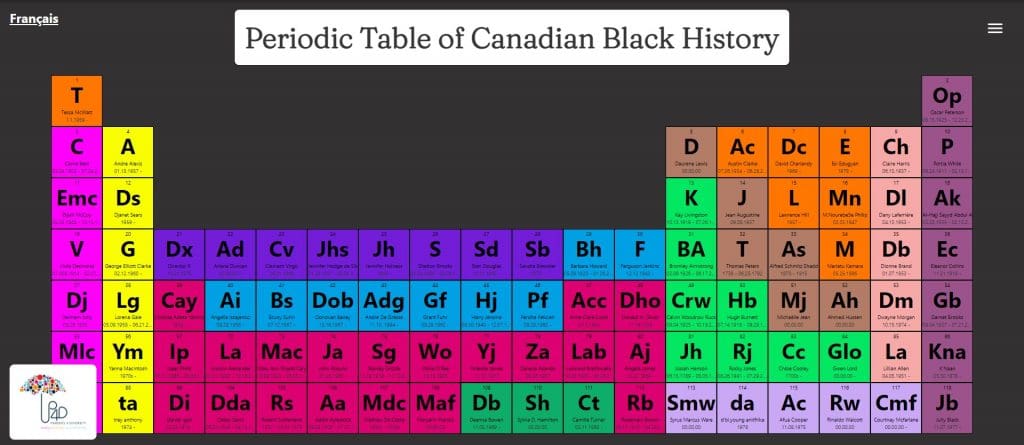 ---
News Release – January 26, 2021
Tools and resources advancing racial equity key to COVID-19 recovery
Ontario Working with Multi-Sector Leaders to Improve Diversity in the Workplace

---
Schools in Toronto will offer a course on anti-Black racism starting this year – January 26, 2021
---
TV Shows and Series
---
Documentary
---
Films & Movies
Books
Radio
Podcasts
Toronto is a multicultural hotspot. But the diversity that makes the city special isn't often reflected in the stories we hear and the discussions we have. Black Tea will change that. Dalton Higgins and Melayna Williams are here to bring important and uncomfortable Black community conversations out in the open, and to have some laughs while doing it.
Transitioning as a POC, providing insight, thought-discussion, empowerment dialogue, providing a safe space for all to share and praise. And most importantly a channel that exudes and exits merely based on universal love, mental well-being, life experiences and self education/discovery. May blessings be unto you and I as we navigate this life together.
Fit Black Queens sharing the #blackgirl perspective of Health, Wellness, and Fitness. Check out our #Podcast and join the conversation.
Where keeping it real goes right–most of the time. Trevor, Sam and Jeff are three real friends having real, in-depth conversations. Join us every Monday to listen in on a slice of our reality as young Black men, as well as insight and perspective on current events in the world of pop culture, sports, relationships, society and much, much more.
"Midwives of culture for grace and truth."
Welcome to Truth's Table with Michelle Higgins, Christina Edmondson, and Ekemini Uwan. We are Black Christian women who love truth and seek it out wherever it leads us. We will share our perspectives on race, politics, gender, current events, and pop culture that are filtered through our Christian faith. So pull up a chair and have a seat at the table with us
Spoken word poet and storyteller, Joan 'Lyric' Leslie brings shares her take on a super liberal, very black Christianity and how that manifests itself today.
A Podcast featuring women of color with different views on hot topics
Mixes real stories with killer beats to produce cinematic, and dramatic radio. Hosted by Glynn Washington.
The Gifted Connection Podcast w/ Nathan McClinton
Nathan McClinton is a Millennial Inspirational Enthusiast committed to helping you shatter your untapped potential and live out your dreams!
The Gifted Connection is your safe place to live, learn, grow, and BECOME your best self! Join me, as I help you to live out your full potential through the expression of your God given Gift! Your Gift is about to Make ROOM for you. The question is…are you ready?
Brittany Luse and Eric Eddings gleefully explore all the beautiful, complicated dimensions of Black life.