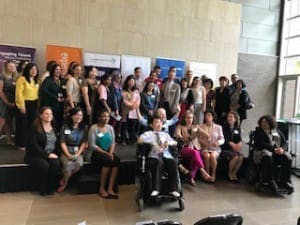 The Cincinnati -born transition-to-work model for students with developmental disabilities is being implemented in Ontario for the first time
(Wednesday June 19th, 2019) – Community Living Toronto celebrated yesterday the launch of their participation in Project SEARCH, an international, transition-to-work internship program for youth with intellectual and developmental disabilities. Beginning this September for their final year, ten carefully selected high school students from across Toronto will participate to gain the marketable skills needed for employment. The Project SEARCH model has been implemented across 600+ international sites and upon completion, about 75 percent of the students find gainful employment within a year of graduation.
"The value of Project SEARCH's hands-on approach to skill building and the independence they promote is immeasurable," said Brad Saunders, CEO of Community Living Toronto. "Community Living Toronto has helped hundreds of people with intellectual disabilities across Toronto find meaningful employment. We are excited to be a partner in bringing this innovative program to our city so that we can continue to break down barriers and create a society where everyone can thrive."
Students will spend 10 months of studying and working in non-clinical roles at Holland Bloorview and Toronto Rehab. A typical day begins and ends with classroom instruction, led by Toronto District School Board (TDSB) teacher, Lisa Cunha de Freitas, at Toronto Rehab's Rumsey-Neuro Centre. Topics focus on life skills that will help make students successful in the work place, such as money management and building interprofessional skills.  Students are supported at their placements by job & skills development trainers from Community Living Toronto.
"Together with Toronto Rehab, Holland Bloorview looks forward to co-hosting the first ever Project SEARCH cohort in Toronto," said Meenu Sikand, executive lead, equity, diversity and inclusion, Holland Bloorview." Susan Jewell, senior vice president and executive lead, Toronto Rehab, noted, "Participating in Project SEARCH feels like a natural extension for us at Toronto Rehab. We feel privileged to help youth with disabilities develop the skills and confidence they need to compete in today's job market."
Other program partners include the Ontario Disability Employment Network (ODEN) and United Way Greater Toronto. Both organizations share a commitment to skills training and youth employment success inclusive of individuals with disabilities.
About Community Living Toronto Since 1948, Community Living Toronto has been a leader in developing community-based services and supports for people with an intellectual disability and their families. One of the largest organizations of its kind in Canada, Community Living Toronto provides services and support to over 4,000 people and their families across Toronto. Our mission is to change the lives of people with an intellectual disability by giving them a voice, and supporting their choices where they live, learn, work and play.
-30-