Thank You Front Line!
Every year, as part of Community Living Month, thousands of people across the province "take a break" from their day to post a selfie in support of inclusive communities.

This year, we'll be taking a break to thank the frontline heroes who have continued to support people with an intellectual disability throughout the COVID-19 pandemic.
We hope you'll join our #ITookABreak21 campaign on Monday May 31st!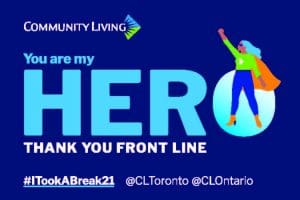 Click the link below to download our digital package!
~ Special thanks to Nestle for donating 2000 KitKat bars to this campaign! ~
---
Check out the selfies of #ITookABreak19. These were all posted in 2019 during the campaign.
---