MAY 31: #ITookABreak23 for Community Living Month
Every year, as part of Community Living Month, thousands of people across Ontario show their support for Community Living by participating in our #ITookABreak social media campaign.
On Wednesday May 31st, help us advocate for a society where everyone belongs and where everyone is valued!
Here's how:
Print out an #ITookABreak23 label
Stick it on a KitKat bar
Take a selfie and save it on your cell phone
On Wednesday May 31st, post your selfie on social media
Include the hashtag #ITookABreak23
Tag your local Community Living association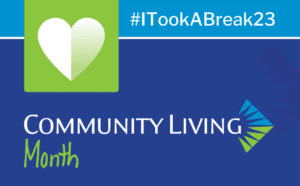 Virtual #ITookABreak23
Event
Let's get together, enjoy the music of a talented Canadian musician, and watch a photo montage of your 2022 blue and green photo submissions!
Where: Online
Host: Community Living Ontario
When: Tuesday May 31
Time: 2 pm
Who: all are welcome!
Get more details on the Community Living Ontario website.
Here's some inspiration from previous years!
I believe in a society where everyone belongs and where everyone is valued! #ITookABreak23 #DevelopmentalServicesMatter #CLMonth #InspiringPossibilities @CLToronto @CLOntario